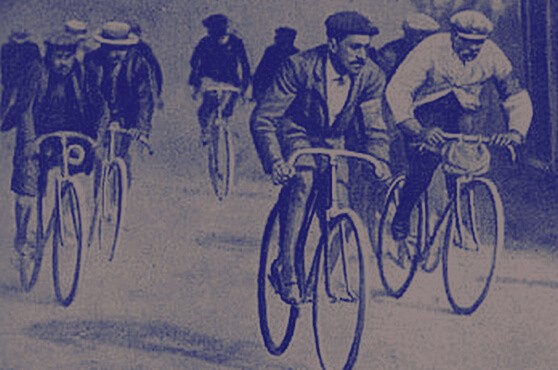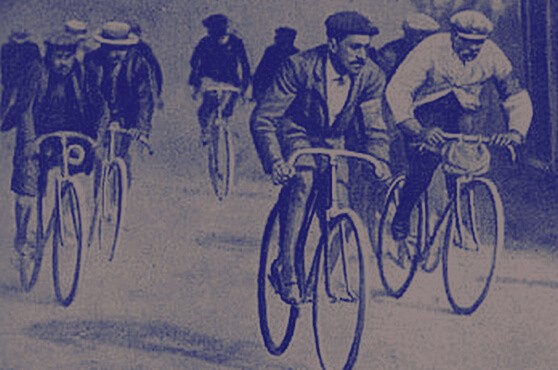 The 1903 Tour de France
Let's time travel back to France at the turn of the 20th century. There are two major sports papers in circulation: Le Vélo and L'Auto. It's fair to say they don't get along.
Le Vélo has just sued L'Auto for plagiarism. And to make matters worse for L'Auto, its circulation is falling week on week and their financial backers are getting restless.
Desperately in need of some fresh ideas, L'Auto calls a crisis meeting.
Cycling correspondent Géo Lefèvre suggests organising a three-week-long bike race around the entirety of France. Editor in chief, Henri Desgrange, likes the idea and three days later L'Auto's front page announces The Tour de France: the greatest cycling trial in the entire world.
For a long time, it looks like Le Tour might be a bit of a disaster. With just a week to go only 15 riders are signed up. Desgrange delays the start date, introduces a 20,000 franc prize purse, and promises to pay the expenses of the first 50 riders who sign up.
And it works. At 3:16 P.M. on Wednesday 1st July 1903, 60 riders depart from Cafe au Réveil-Matin in Paris. The 1st stage of Le Tour is underway.
The dramatic writing in L'Auto's daily reports captivates the imagination of the French public. Throughout the 1903 tour L'Auto's circulation grows from 25,000 to 130,000 and old rival Le Vélo is forced out of business.
The coming years see the profile of the tour rise, and with it so does L'Auto's readership. By 1908 circulation reaches 250,000, by 1923 it reaches 500,000, and in 1933 it peaks at 850,000.
To put in perspective that's nearly double the New York Times current weekday circulation.
L'Auto's meteoric rise doesn't go unnoticed. Six years after the launch of Le Tour, Italian sports paper, Gazzetta dello Sport organises the first Giro D'Italia and following their success Spanish paper Informaciones organises La Vuelta Ciclista a España.
It's quite remarkable really. The three largest cycling stage races in the world today all started as "side projects" hoping to increase readership of their parent newspaper.